Irish Gifts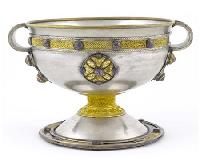 While mass-produced, cheap, low quality, short lifetime items may have their place, people do place great value on quality products made with skill and care. Ireland has, for thousands of years, been developing and passing on the handcraft traditions of silversmithing, jewellery making, woodworking, pottery etc. The famous Ardagh Chalice pictured here dates from the 8th century AD and shows the skill which existed at the time and which has been passed on through the generations of craftsmen and women since.
The skills of working out intricate designs, making best use of the available materials and coming up with products of beauty have been extended to the development of quality clothing made from natural fibres, working with essential oils and producing natural candles, soaps, shampoos & cosmetics which are not toxic to the body and the environment.
When you want to give a gift to someone, you'll want to give something of true value, that symbolises how you feel about that person. For such occasions, mass-produced, low quality items do not meet the mark. With quality Irish gifts, handmade with care and the highest attention to detail, you are giving a gift which will be durable, admired, and give long term satisfaction to the recipient.
Take a look in our Irish-made gifts category for quality gift ideas. By purchasing an Irish gift, you will be sustaining employment in the crafts industry and helping to ensure that these valuable skills are passed on to the next generation.